Banjo Bottles
In the interest of simplicity and to reflect the market of availablilty, Banjo shaped bottles easily fall into three principal Classifications: Large - LB, Small - SB, and Others - OB.
The LB's are by far the most common of the Banjo shaped figurals. Many are from the same vintage as the LV's being in the 1940 - 1975 range and were produced by the same Southern New Jersey Glass Houses. Clevenger catalogues, as well as Dell promotional materials indicate that both companies had large banjo shaped bottles in their product lines. Other similarly shaped banjo bottles, somewhat earlier, were made by the Maryland Glass Company of Baltimore.
The main body of all LB's suggests the general shape of a discus. They measure 5 1/4" in diameter and are 1 5/8" thick. There is an assortment of Lady's Leg neck and lip applications which contribute to an overall height of about 9 1/2". Most LB's have a very small oval base which precludes it from standing on its own. Hangers were required and some lovely examples can be found. The odd thing about LB's and SB's is that they have embossed "f" holes, something that a real banjo does not have. Colours include light blue, amber, green and amethyst.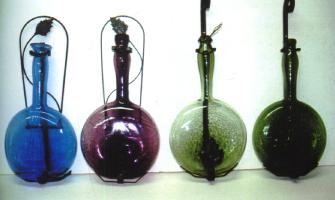 Most of the SB's that can be found were made the the "Old Jersey Glass Company" of Millville, New Jersey, a Dell operation. They are shrunken versions of the LB's and measure 7" in height. Colours are light blue, light green and shades of amethyst. Green is the most difficult to find. Some can be found with decals.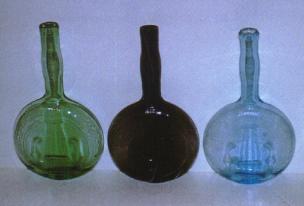 Other banjo bottles include a cork stoppered whisky bottle that is a reasonably good facsimile of a banjo. It is 10 3/4" tall, 5 5/8" wide and about 2 1/2" thick. It was a 1951 offering by the "Medley Distilling Company" from Owensboro, Kentucky. The only colour is clear. Another usually clear banjo shaped liquor bottle is from Italy in 8" to 12" sizes. They are ABM cork stoppered types often with ornate designs. They contained various wines and cordials associated with various Italian districts of origin. Banjos also come in salt and peppers complete with yellow plastic caps. They are part of the Maryland Glass musical ensemble of the 1930's and were often used as advertising pieces.